INDUSTRIAL CHANNELS
Fletch INDUSTRIAL CHANNELS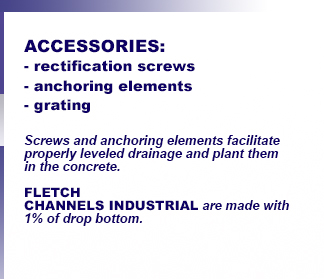 Fletch INDUSTRIAL CHANNELS
are made of AISI304 or AISI316 stainless steel and are designed to collect water from the floor surface and discharge it to the sewer system.
Fletch INDUSTRIAL CHANNELS
are use in food and building industry. This types of drainage are manufactured in a wide choice of sizes and shapes. They are in accordance with the approved by the customer technical drawing.